Vice Chancellor Clocks Four Years In Office
Professor Ndowa E. S. Lale clocked four years in office last Saturday without staging the wasteful pomp and ceremony that have come to characterise public office in Nigeria. Professor Lale rather travelled to his country home in Eleme to bury his brother-in-law, Professor Emmanuel Amadi, brutally murdered by hoodlums who attacked his residence at Rumuolumeni. Correspondent, OTIKOR SAMUEL and EDITOR, WILLIAMS WODI, beamed the searchlight on the Vice Chancellor's performance in the last four years and scored him high on every measure of merit.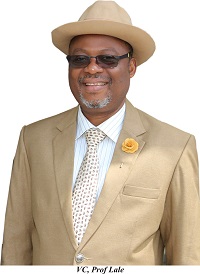 English poet and philosopher, Elizabeth Browning, once declared that a great man, leaves clean works behind, and requires no sweepers up of the chips. Our candid submission is that since he became Vice Chancellor on July 13, 2015, Professor Ndowa Lale has evidently nudged the University in the right direction to general aplomb; and this is in spite of the vaguely disguised pact of opposition by a few rebels without a course and preachers with neither pulpits nor progressive energy determined to fling mud at Professor Lale's glittering record of service. Still, the expression of admiration is visible on the faces of many more stakeholders than the few fringe elements, hell-bent on discrediting a distinguished Report Card that stands out on every measure of merit, even in darkness.
Professor Lale clocked four years in office last Saturday without backslapping and glass clinking that usually heralds such watershed moments on the annual calendar of public office holders. The Vice Chancellor has stoutly refused to succumb to those who appeal to his vanity to mount elaborate anniversary celebrations to mark each of his last four years in office. As we begin the final countdown of the Lale administration, it is auspicious to beam the searchlight on his modest accomplishments on the hot seat.
Professor Lale has deepened the academic culture by insisting that lectures must commence on the first day of resumption. Students now assess their lecturers to determine their productivity. The Quality Assurance and Quality Control Unit of the Vice Chancellor's office has diligently policed erring staff to deliver on their core mandate. Professor Lale also set up the Staff Certificate Verification Committee to ascertain that all staff possess the requisite academic qualifications to earn their places.  The Committee is already in the middle of its onerous assignment to extend certificate verification to staff as they do to students.
The infrastructural drive of the present administration has received more impetus with new structures that have created a conducive learning environment for staff and students. Some of the signature projects completed and commissioned in the last one year included the TETFund-sponsored mega circular building, popularly known as 7-in-1, office complexes, museum, lecture hall for the Department of Fine Arts and Design, Department of Anatomy building and Faculty of Basic Medical Sciences. Other projects completed in the past one year are the new UniPort Executive Guest House at Ghana-Ama, and the fully refurbished Guest House at the University of Port Harcourt Liaison Office in Maryland, Lagos.
As part of its welfare package for students, Management is constructing another signature project in the form of a Walk-way in concert with the Students' Union. This is a novel idea in the Nigerian university system. Sandwich Students' Hostel at Choba Park is nearing completion to bring partial closure to the perennial accommodation problem faced by this category of students. The roads at New Ghana-Ama and Gambia-Ama have recently been resurfaced by the Niger Delta Development Commission to ease vehicular movement in that axis of the residential areas of the University Park. Contractors would soon mobilise to site to commence construction work on brand new 27,000-seat capacity Convocation Arena donated by the Rivers State Government. The 3-D design which could be collapsed into classrooms has other uses; complete with offices, conference rooms for members of the Governing Council, including a coffee shop, amongst other facilities.
Other projects completed under Lale's watch included the Faculty of Social Sciences Annex, Counselling Centre, Central Bank of Nigeria Centre of Excellence and a one-storey classroom building at the University Demonstration Primary School with a Tuck Shop.
The Senate building, Ebitimi Banigo Auditorium and Faculty of Agriculture now wear new looks following their repainting by the Lale-led administration. The Faculty of Law Library donated by the family of the late Eze Clifford Nwuche has attained about 30 per cent completion rate. The administration had previously renovated student's hostels and built 32 housing staff residential house, including public toilets in advancement of its sanitation drive.
Under Professor Lale's watch, the local branch of the Academic Staff Union of Universities completed and commissioned its expansive secretariat building at Delta Park, while the University of Port Harcourt Women Association School added new structures and equipped its Computer Laboratory. On staff welfare and promotion, the administration of Professor Lale in the past year elevated 12 academics to the rank of Professor, 11 got promoted to readership position, 46 Senior Lecturers, 22 Lecturers II position, 41 Lecturers I and 3 Assistant Lecturers. A total of 236 administrative staff in the category of Senior Professional, Administrative and Technical Staff (SPATS) and 100 junior staff also received their promotion letters with effect from October 1, 2018.
In sports, the Lale administration successfully hosted and won the 14th edition of the West African University Games (WAUG) last October. The University's world-class sporting complex recently played host to the maiden edition of UniPort Challenge and Relays which is a talent identification programme for the training of budding athletes.
On the volatile security situation, Professor Lale has masterfully managed it to the extent that while neighbouring host communities have almost succumbed to the unabridged reign of freely rampaging hoodlums, the campus has been fairly inoculated against such tendencies—thanks to the deployment of the dutiful Inspector-General Monitoring Group to Omokiri community in Aluu.
On the whole, the collective enthusiasm that greeted Professor Lale's Inaugural Address on July 13, 2015 when he took office as 8th Vice Chancellor was predicated on the intense clarity of his vision, mission and courage to do the right thing. The furious rage, slanderous and libellous darts by fringe elements that seek to impeach his reputation and accomplishment merely expose their seductive illusions in the public space. The Vice Chancellor's open door policy, fairness and firmness need no further interpretation. All said, Professor Ndowa E. S. Lale has a superior destiny than those out to bring him down from the peak of his performance. There is a general chorus of agreement that it has been four years of breathtaking high impact performance in the line of duty!